7 Best Apartment Complex Marketing Tools (Ranked and Reviewed)
Read more and learn about the best apartment complex marketing tools. And we'll also provide helpful tips on how to use each tool to its full potential. So whether you're just starting or looking for ways to improve your current marketing strategy, you will find something useful here.
You may be wondering what the best marketing tools for my apartment complex are. Wonder no more. The answer is right here in this blog post. We'll discuss all the necessary marketing tools and how they can work together to produce qualified leads for your business.
Read more and learn about the best marketing tools for your apartment complex. And we'll also provide helpful tips on how to use each tool to its full potential. So whether you're just starting or looking for ways to improve your current marketing strategy, you will find something useful here.
Generating the right traffic
A hyper-competitive apartment complex market means you must work hard to draw in people and generate traffic quickly. If your top-of-the-funnel apartment marketing tools aren't up to par, it will be difficult for you to succeed, especially with all these new competitors.
There are some easy ways that we've seen developers use their technology resources as a starting point when making improvements on listing sites or websites; they include using social media platforms like Facebook, Twitter ads, and Google Adwords PPC campaigns, plus more complicated tactics such as building bots that automate specific tasks while providing support for human interaction.
Top-of-the-funnel strategies
For top-of-the-funnel marketing tools, consider posting online listing platforms or internet listing services (ILS).
These are sites like Apartment.com, Zillow Rent Path, and Zumper. Likely, these have already been a part of your plan for 2022, as most leasing teams know how valuable they can be in attracting potential renters who want to see what's available before investing in renting their next home.
Make sure you provide up-to-date information on all websites with videos if possible; otherwise, optimize using the right keywords & phrases, so people find YOU first when browsing around town or across the country.
7 Best apartment marketing tools
Here are the best apartment complex marketing tools for generating leads and managing your marketing efforts to attract and retain renters.
1. ConstantContact (best for email marketing)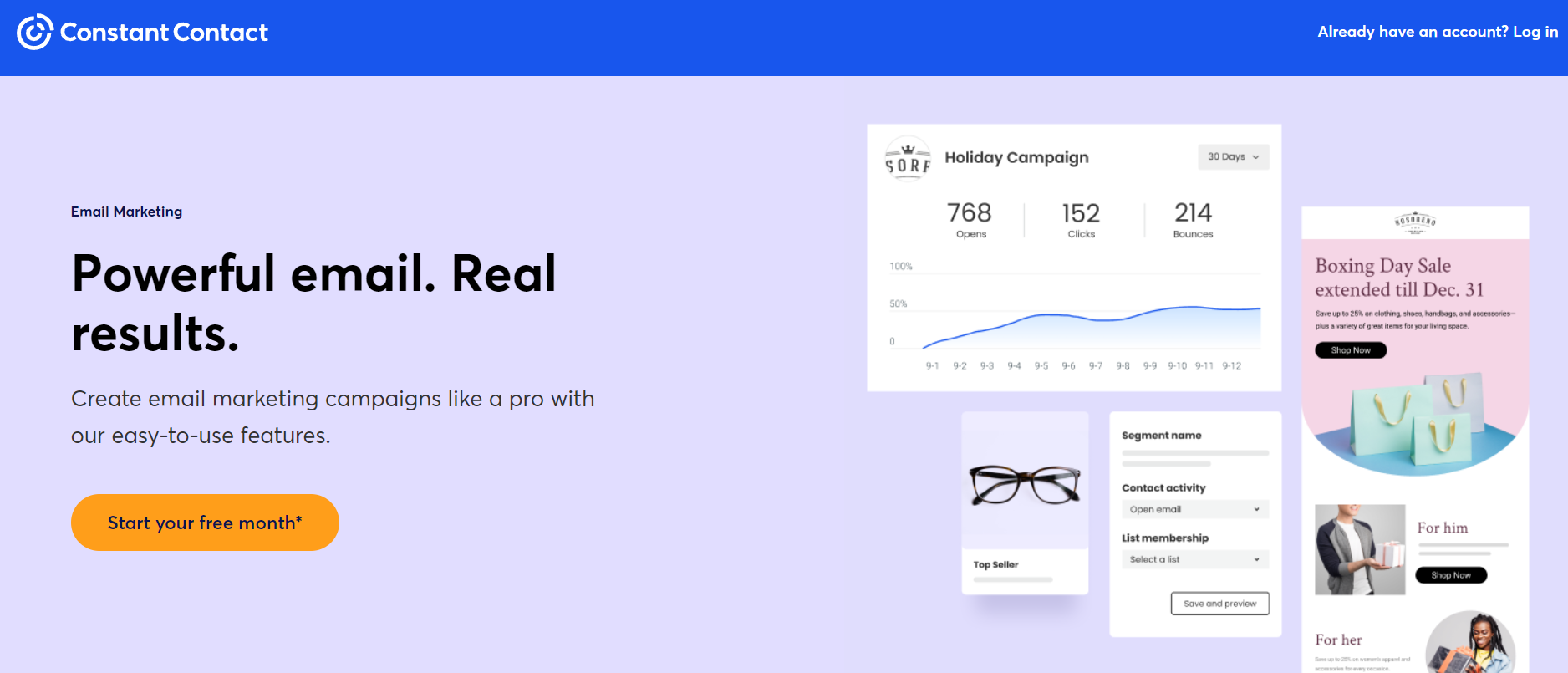 ConstantContact is the leading email marketing service for professionals who want to grow their businesses. Their features allow you to create professional, branded emails with ease and speed that can be sent from anywhere at any time.
Connecting your whole business in one place while managing everything through a single interface gives constant updates on how each campaign performs, so it's always fresh in mind what works best when needed. Their award-winning support team is also here to help you get the most out of your account.
What sets Constant Contact apart from other email marketing services is the ability to track and segment your contacts. This allows you to send targeted campaigns based on someone's interactions with your business.
For example, if you run a store and someone buys something, you can send them a follow-up email with a coupon for their next purchase. Or, if you're a B2B company, you can segment your leads by the industry they work in, so you're only sending relevant information.
Constant Contact also offers tools to grow your list and engage your contacts beyond email. Their Sign-Up Forms can be added to your website or Facebook page, and their List-Building Tools make it easy to import contacts from Excel, Outlook, Gmail, and more.
And when you're ready to take your marketing to the next level, the paid plans offer additional features like landing pages, drip campaigns, and automated emails.
Pros
Allows users to organize and manage their data, contacts, and email templates
Free trial
A/B testing for emails
Email automation to adapt to different scenarios
Cons
Not a great user interface
limited customization options for email builder
Integration and consulting only in premium packages
Pricing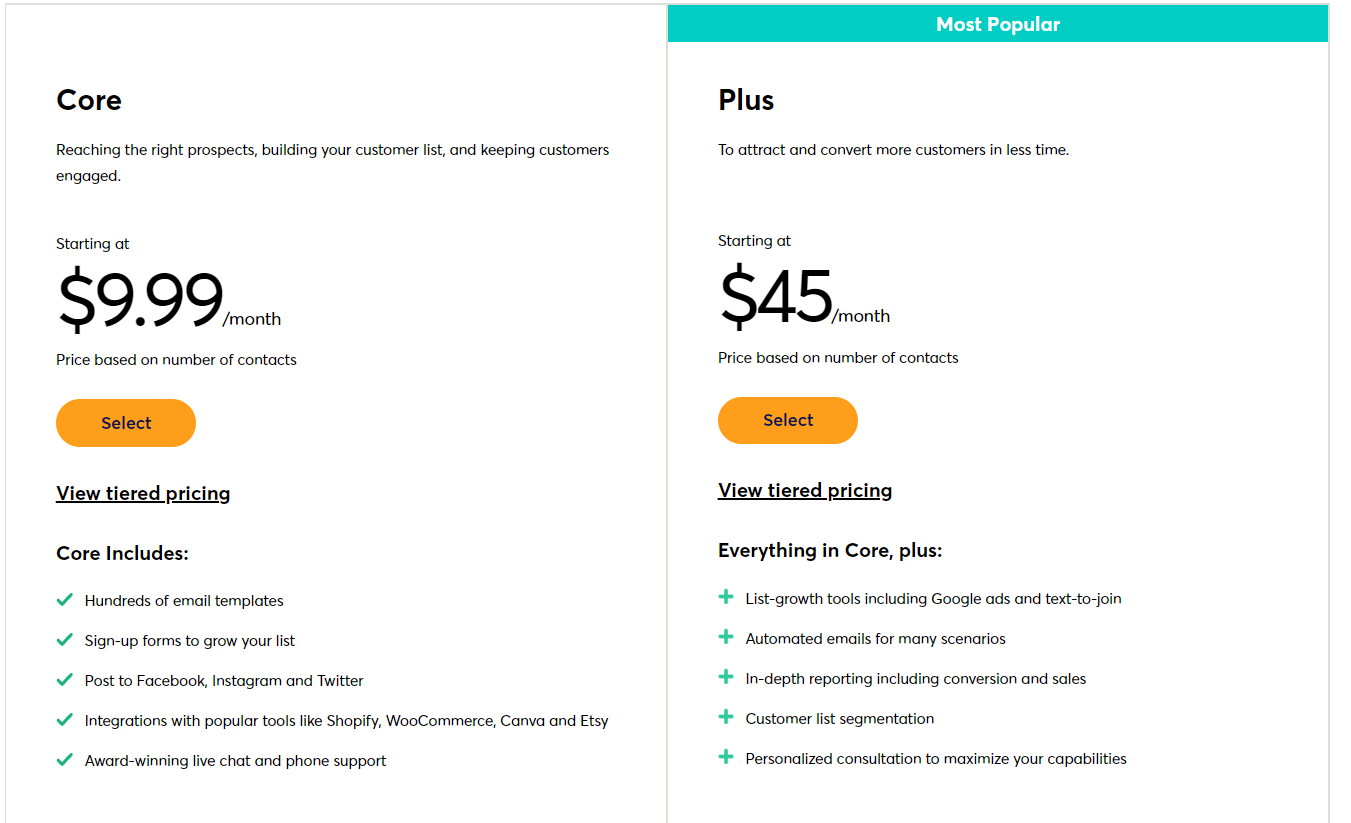 It is relatively cheap to subscribe to the core package, but most of the needed features and options are in the Plus package.
2. Freshworks (best for customers' services and support)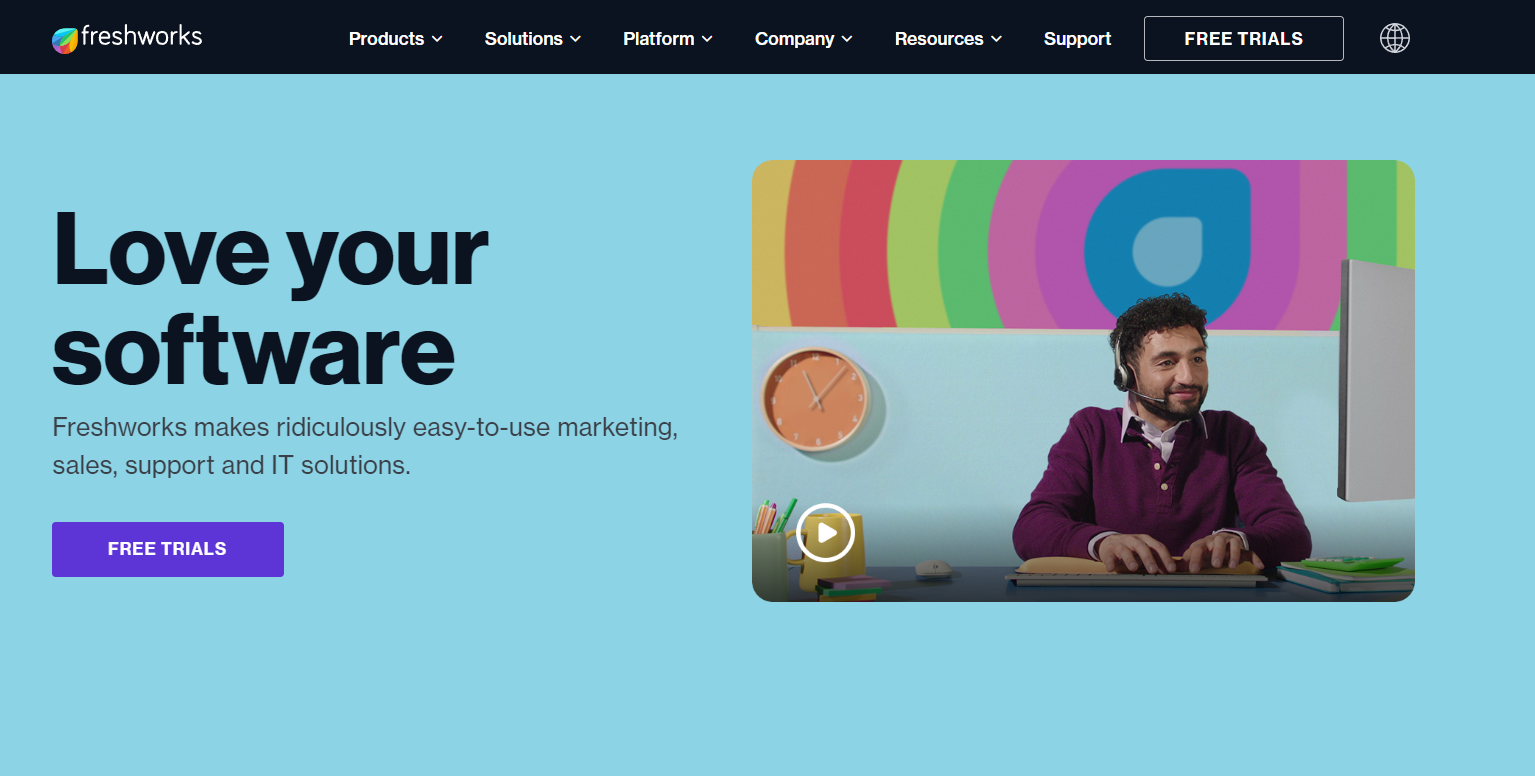 Freshworks empowers businesses with fast and easy SaaS solutions that enable customers, employees, and partners. They do this through a fresh approach to building software-as-a-service, affordable for any size company without sacrificing quality or customer experience.
They don't build legacy systems like many other providers in the market today, who often require large budgets just because their products are outdated by the point-of-sale system made them irrelevant long ago.
Their systems are designed to be used by businesses of all sizes, from the smallest one-apartment owner to large enterprises with tens of thousands of employees.
They understand that the customer is always right, so they make it a point to enable you to listen to your customers' feedback and suggestions. This way, you can continue improving your services and provide an even more enjoyable experience for everyone involved.
If you're looking for a company that will empower your business with fast and easy solutions, then Freshworks is the right choice for you.
Pros
Maintaining and retaining hot prospects
Reminders for tasks and appointments
Forecasting and reporting
Smooth sales sequent
Cons
Support is not that great
The user interface needs improvement
Poor integrations options
Pricing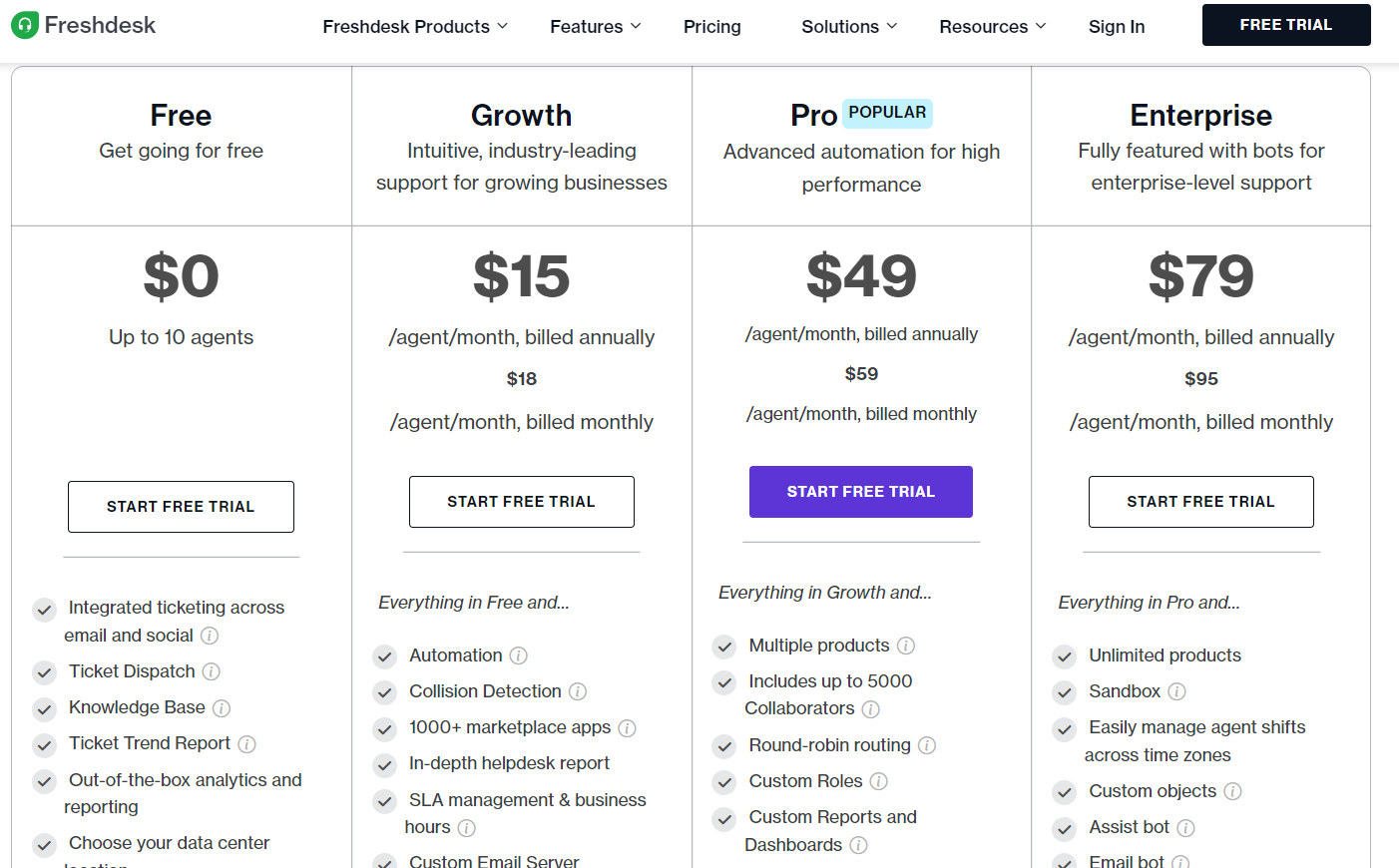 The free trial is a good option to try the platform, Pro package is the right option to go for.
3. Salesforce (best for data management)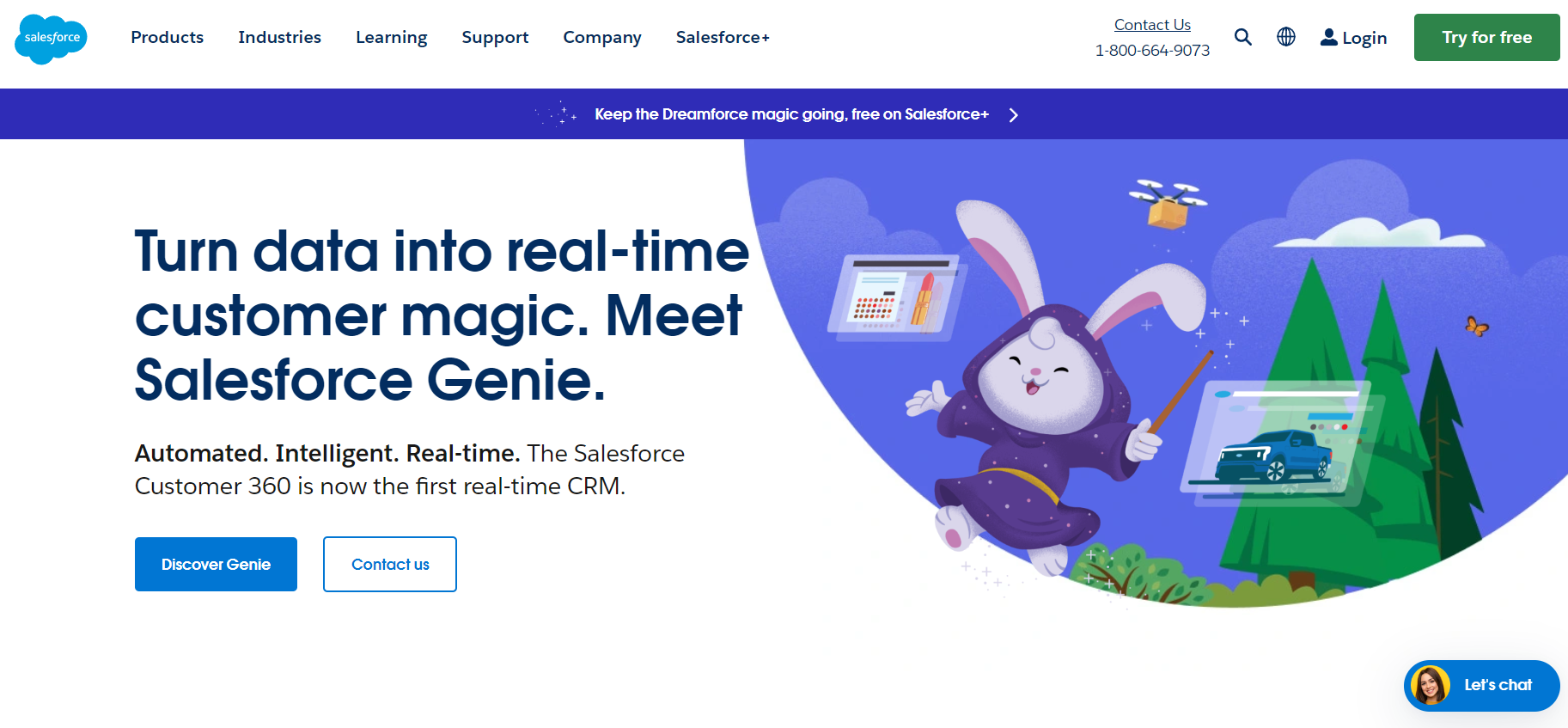 Salesforce is a company that's been around since the early 2000s, and they have an entire suite of products designed to help businesses grow their relationships with customers.
Customer 360 unites your sales teams into one shared view where you can see all information about each customer, whether it be contact details or past orders, leaving no stone unturned in finding new prospects for your apartment.
The Salesforce Marketing Cloud app connects marketing and sales teams so they can work better together. Your business may use a single customer 360 or multiple apps, but you will see tremendous success in your company's operations by improving communications between employees.
The Connect the Dots Tool helps marketers send customized messages directly to prospects where those interested are most likely engaging with them; correct when it becomes evident that someone has clicked on one of the ads/websites, etc., an automated message is sent off notifying involved parties such as potential new leads or customers.
Pros
Functionality and user experience are great
Customization and organization of data and fields are seamless
Sales process automation
Campaigns are easy to set up, track, and maintain
Cons
Switching between the viewing modes is a hassle
Some technical issues with reporting and integration
Pricing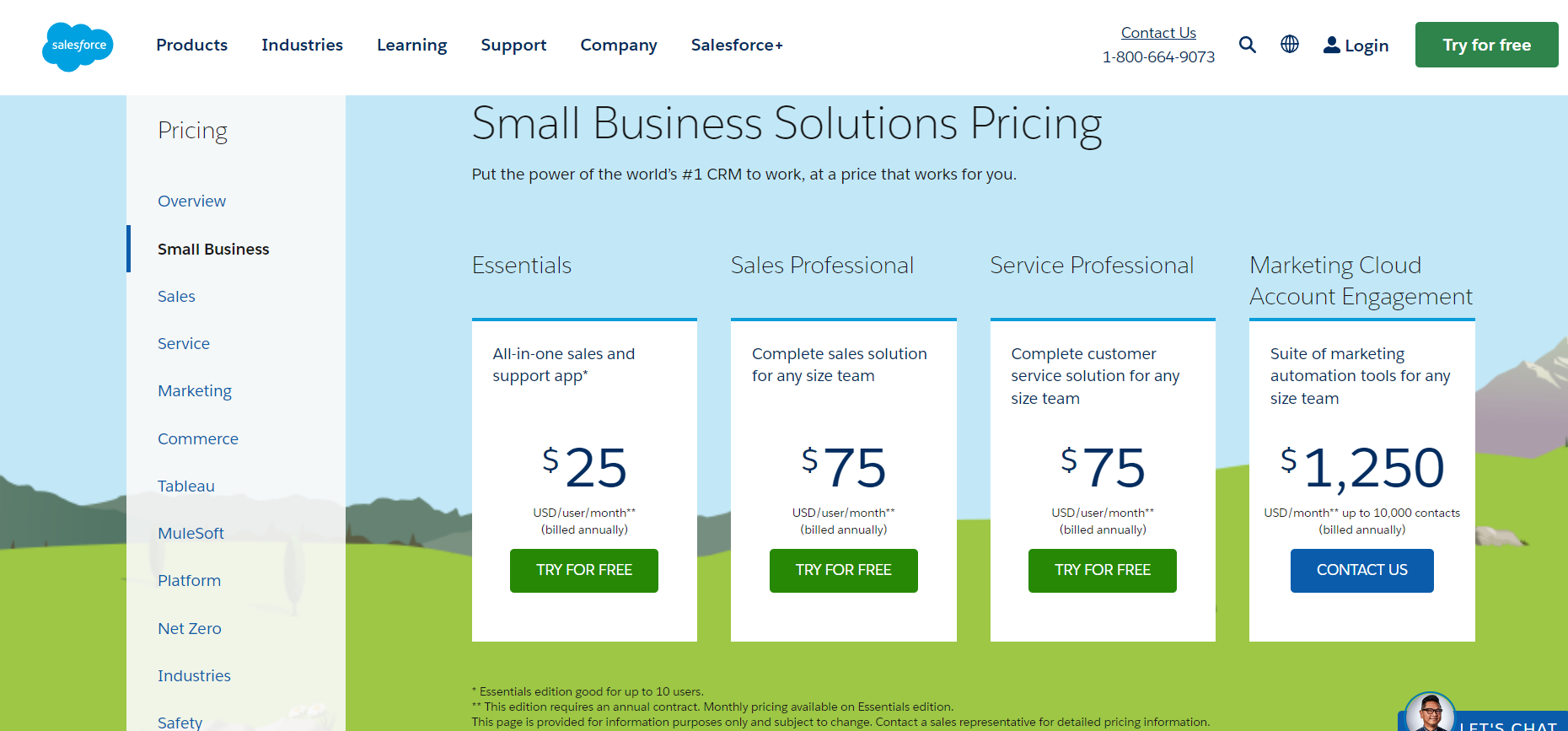 A great price deal for the essential package where most of the basic and advanced features are provided.
4. Respage (best for lead generation)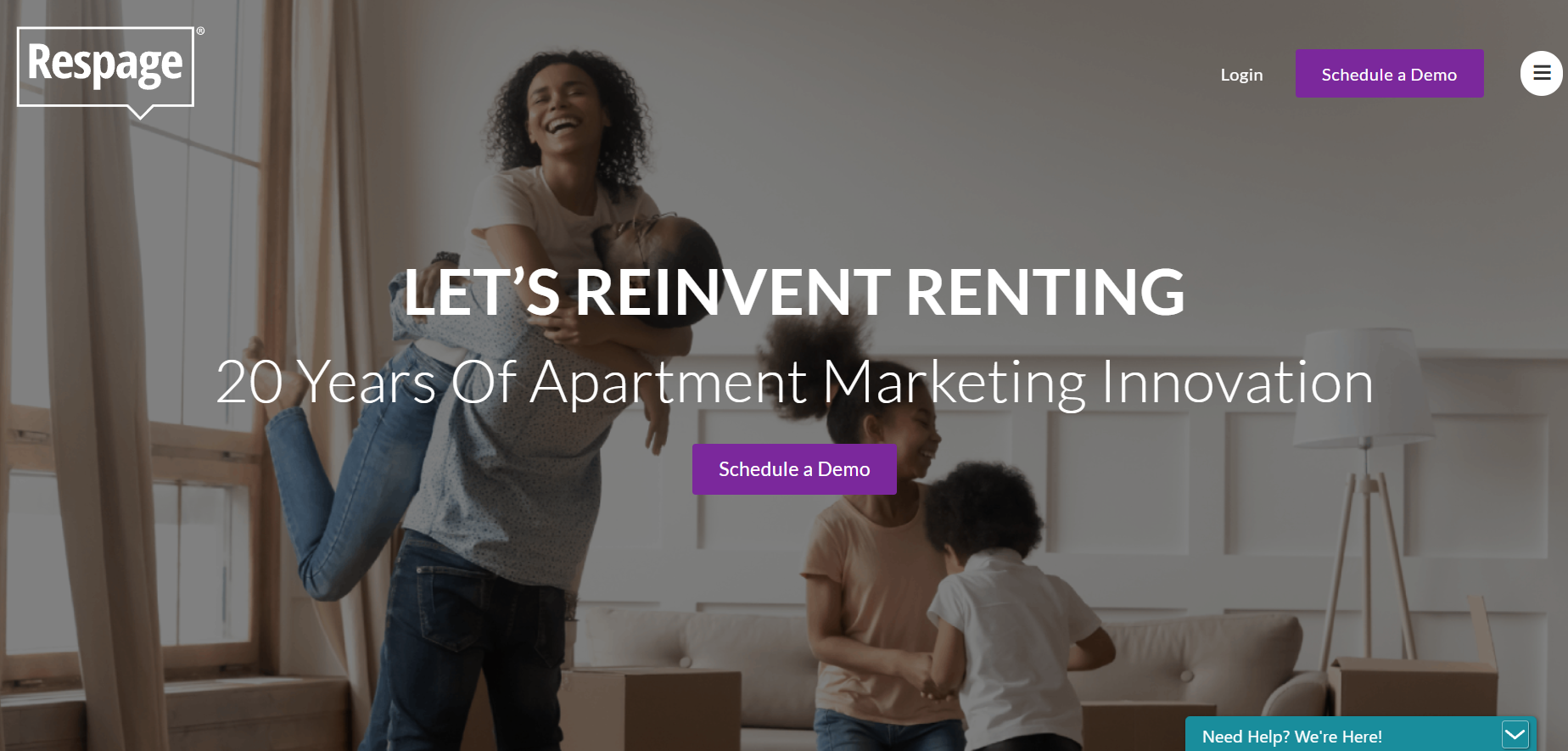 With Respage, you can get more apartment leads and leasing efficiency by automating your follow-up routine.
The AI in their system will automatically send out messages tailored specifically for each prospect. They don't have to worry about being contacted too often or missing vital information. You'll also be able to improve your online reputation through innovative rankings on various websites like Yelp.
All while making life better for prospects and residents looking forward to quickly getting into a new home; thanks ResMate's expert services. This is possible with Respage, and because their services make life easier for prospects and residents, everyone will be happy with the results.
Pros
The data provided is well-organized and easily usable
Properly managing residents' affairs
It helps in deliveries, pickups, and drop-offs
Great for event management
Cons
Planning and organizing tasks are difficult
There is a delay in delivering and completing objectives
Pricing
The starting price varies depending on the products and services chosen by the user. They require a demo first so they can tailor a package that suits the user's needs and deliver a price for it.
5. Hyro (best for advanced communications)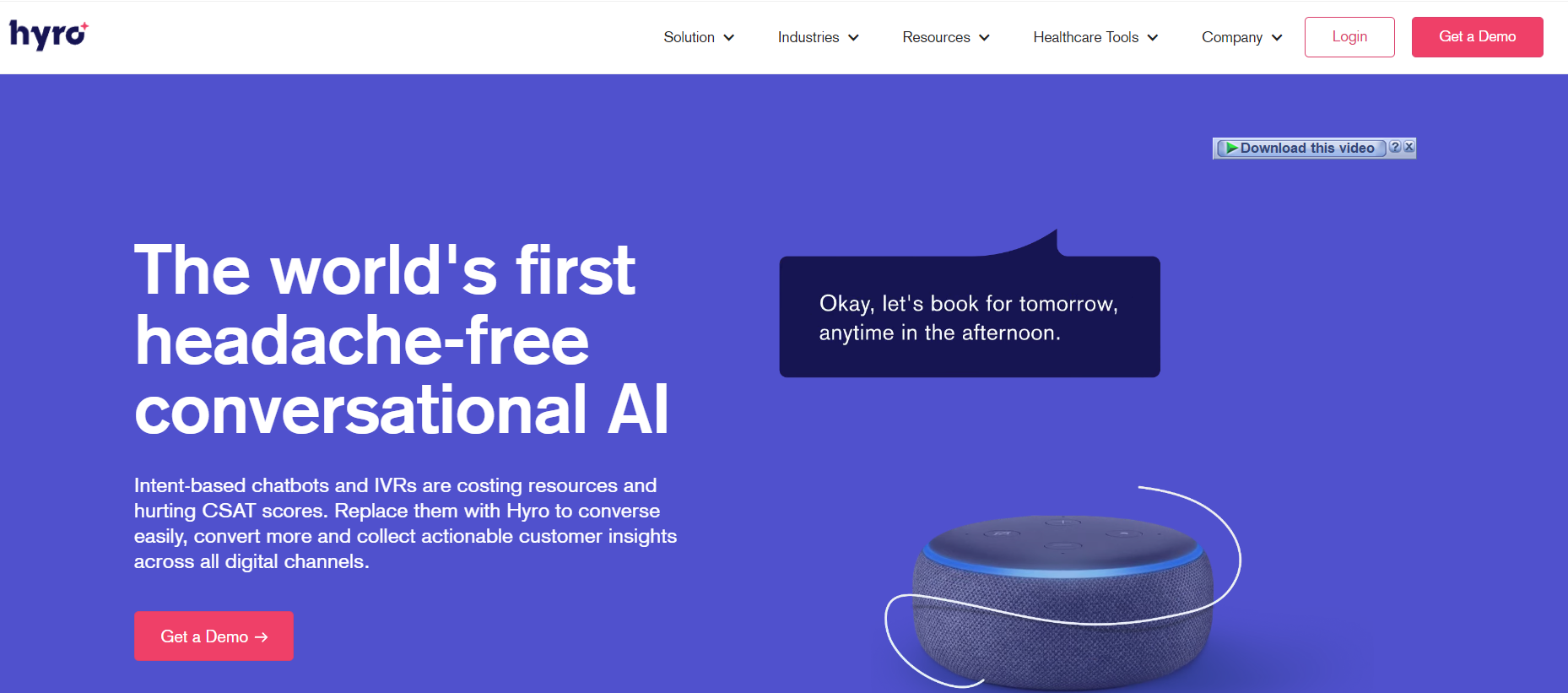 Here is the world's first headache-free conversational AI. Intent-based chatbots and IVRs cost resources, hurting CSAT scores; replace them with Hyro to converse easily for a more efficient workflow that will result in higher conversion rates across all digital marketing channels.
Unlock critical customer insights by analyzing key performing categories and uncovering trends so you can solve pain points before and after, giving yourself an unfair competitive edge over your competitors.
What's more, Hyro requires very little training and upkeep. It can be up and running in minutes, meaning you'll immediately see results and a return on your investment.
Pros
Easy to build and manage chatbots
Natural language and automated voices and scripts for all scenarios
Accurate tracking and analytics
Automation and integration are quick and simple
Cons
More improvements are needed for a better user experience
Changes and updates take a longer time
Only the English version is available and no other languages
Pricing
The starting price varies depending on the products and services chosen by the user. They require a demo first so they can tailor a package that suits the user's needs and deliver a price for it.
6. Smartrent (best for automation of homeowners' management of daily operations)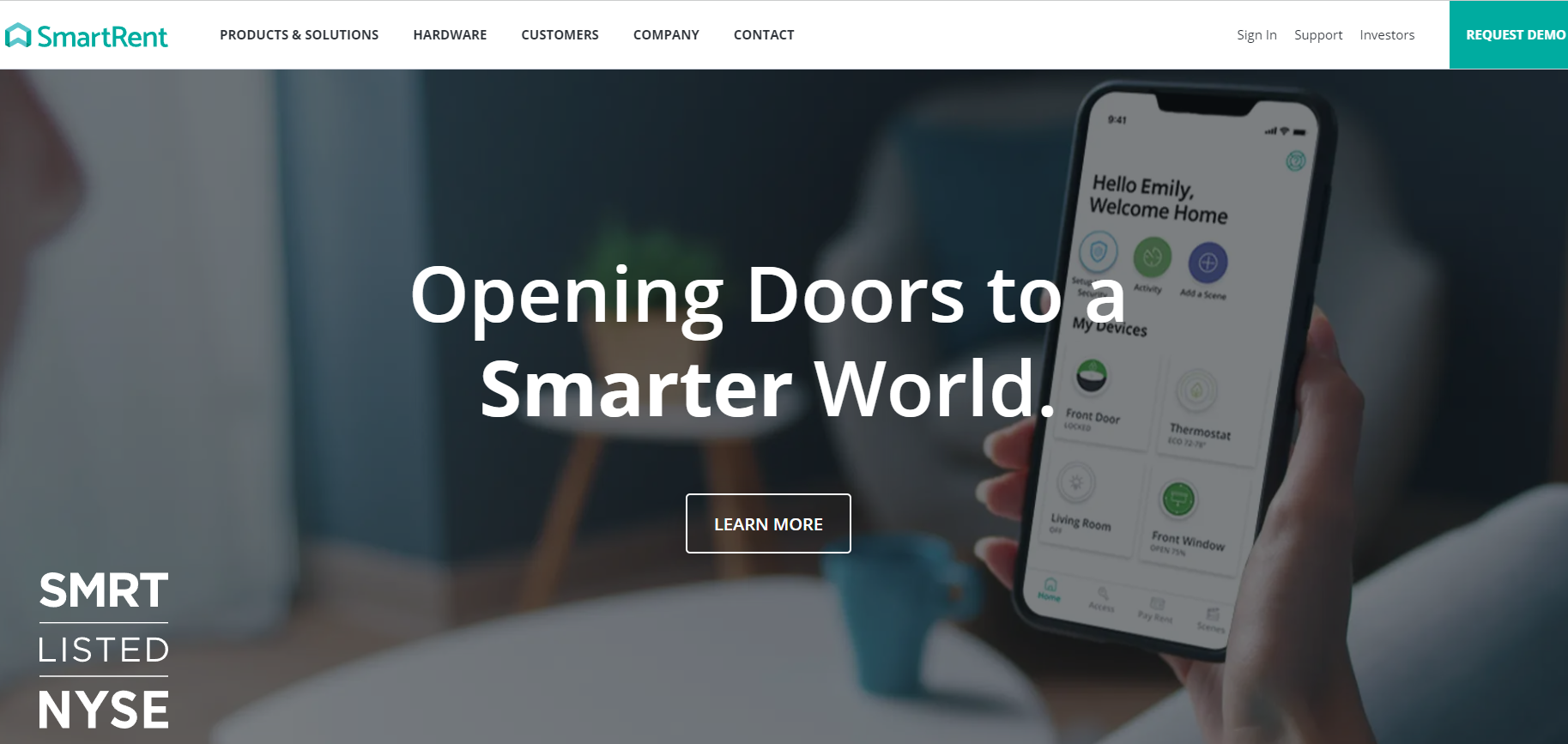 SmartRent is a company that specializes in intelligent home automation, developing software and hardware to empower property owners.
They provide apartment owners with seamless visibility of all their apartment community-related assets while generating additional revenue opportunities through their proprietary Alloy Automation app for residents who want access to control or parking management features at their homes.
SmartRents origins date back to when former multifamily operators founded it because they understood how vital efficiency could be within these types of buildings. This has helped them become one if not the most successful companies today.
Pros
Advanced techniques and options for home management
Automation is easy to build and use
It provides solid asset management
Cons
Too many options to choose from making it a little bit confusing to use and follow
Dashboard needs more improvement and organizing
Pricing
The starting price varies depending on the products and services chosen by the user. They require a demo first so they can tailor a package that suits the user's needs and deliver a price for it.
7. Gong (best for team management)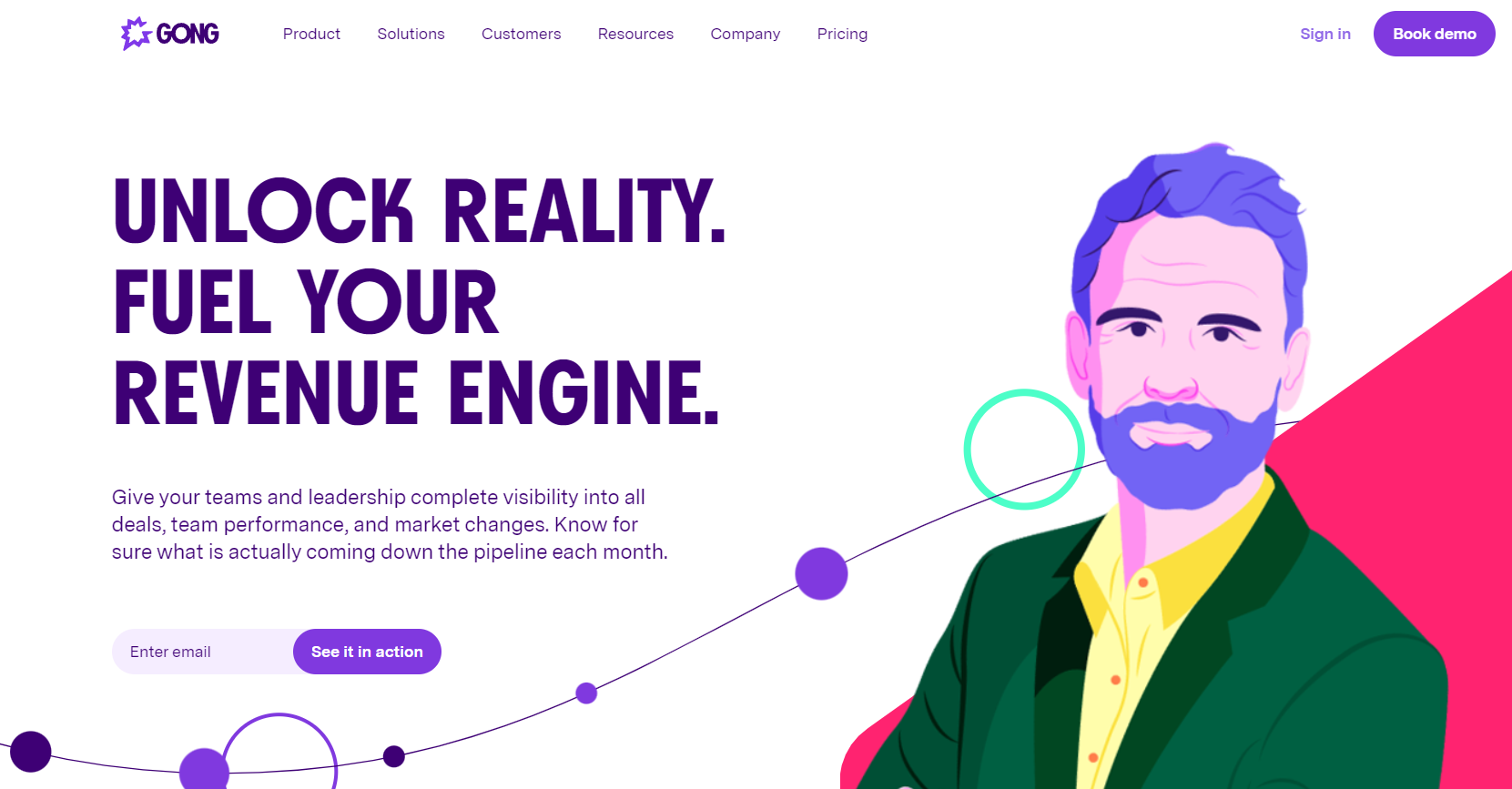 With Gong, your teams and leadership can get complete visibility into all deals coming down the pipeline each month. Know what is happening in market changes so that you can make smarter decisions about how best to spend limited resources.
GONG analyzes customer-facing interactions like phone calls or emails (or web conferencing) from recent months plus previous years' data which gives you an accurate picture of trends within your industry when it comes time to predict future outcomes based on current patterns; this helps guide people around organizational blind spots.
Pros
Get alerted the moment a critical customer expresses intent to leave
Make sure your team is always on the same page
Get an AI-generated summary of every customer interaction
Search and replay any customer interaction from your company's history
Understand what is working (and not working) across your entire customer base
Cons
Communication features need improvement
Technical issues with search and recording functions
Pricing
The starting price varies depending on the products and services chosen by the user. They require a demo first so they can tailor a package that suits the user's needs and deliver a price for it.
Best marketing ideas and tips for apartments
Managing a property is difficult under any circumstances, but it's even more challenging when the economy worsens. Luckily there are many helpful tips on marketing your apartment complex to attract new tenants and increase revenue.
Get a standout Logo
Think about the logo as an extension of your personality. It should be simple yet unique enough that people know exactly who you are and what property they're looking at before even getting started with their search.
This helps build upon all aspects of marketing materials like listings, profiles, or any other materials released by a company, giving them more credibility when clients see this symbol across everything related to real estate ownership.
Create high-quality photos
As first impressions always count and last for a long time, and with this being so true, you should take extra care when it comes time for your property photos. It's not enough that the rooms look great in person.
You need high-quality shots from all angles so potential clients can see how beautiful these spaces are (and maybe even want one). A professional photographer can capture every detail and ensure there isn't anything left out.
But don't just rely on their camera; hire someone qualified who knows precisely where to stand, what to shoot and how to make it all look fantastic.
Use video to show off your property and surrounding community
More than ever before, potential tenants are consuming information through video. Today's smartphones make it easy to learn about apartment complexes, and you can harness this power by producing videos that showcase your apartment and community.
Don't just rely on written content or pictures. One suggestion is to film current tenants talking about their experience with staff; review the apartment they live in now, and why loved ones already living there recommend them so highly.
This will help your property stands out from the competition while using these tutorial clips for other promotional campaigns on social media channels like Facebook Live.
Post resident reviews
One of the most potent ways to market your apartments is through testimonials. This social proof can help you understand what current clients think about their experience and build trust with potential residents.
This can lead them to want more information on how great an apartment would be for them. One type that stands out as being especially effective at doing this? Video Testimonial Videos.
These short clips feature happy customers giving feedback from within our company's property, so it shows why we're worth investing time into renting space here instead of somewhere else.
Hold local events for residents
Current residents and guests will enjoy an evening together in your community with exciting resident events. Please encourage them to get more involved in the fun by hosting a resident-driven event that they can be proud of to boost resident retention.
With great prizes up for grabs and fantastic food from local businesses alongside each other's company, what could go wrong? When you jump on board these kinds of social campaigns, the possibilities are endless.
You see yourself having the best thanksgiving dinner and gaining new followers who may have never known about you before due solely because they found out through Twitter or Facebook. Be creative and innovative and enjoy doing what you love.
Start a Referral Program
When setting up a referral program, you must consider the type of incentives you want your residents in place. Cash rewards or discounts on rent for referring new people who join their network will help keep them motivated and happy with all they have achieved.
Provide Unique Amenities
Creativity is the key to making your property stand out. Think outside of just offering more laundry facilities. With so many properties providing similar amenities, it's time for you to get creative and develop new marketing ideas for apartments on how best to use that space.
Whether as an outdoor patio or dog wash area, there are plenty of options available depending upon what kind(s) of renters we want at our building (and their furry friends).
Join Business Networking Groups
When it comes to the outreach market, you need to have connections inside the local housing organizations, most notably the Chamber of Commerce. These groups make it less awkward to meet businesses in your area. It is best if you have other members who can vouch that they know someone at their company because these organizations only allow one member per industry group.
For example: imagine there's an insurance agency down the street from you; you could join both the local chapter (like State Farm) AND any multifamily marketing community with people across all industries there locally, too, which would give you more power when negotiating prices together since everyone has different needs but knows how much they want to spend on rent.
Apartment marketing tactics
Facebook ads
There's no better place to find potential renters than Facebook. If you want your marketing strategy for apartments to work, then it will be time well spent going where people are, which means that if any of those pesky prospects live near or around an area where new leases often get signed, chances can't be gotten higher.
With organic social media being such a great way to build brands, running paid ads on sites like Facebook and Instagram can be a cost-effective option and is one of the most valuable ideas out there when looking into getting more tenants taken through lease by targeted customers interested locally right away without breaking their bank accounts in order do so either.
Finding an apartment is hard enough, but finding an affordable one in a good location is even more challenging. Facebook can help you with your search by finding potential renters who are interested in your apartment complex. By targeting your ads to people near your complex, you can get more qualified leads and increase your chances of getting new tenants.
Google ads
Google AdWords provides a great way to ensure that your apartment complex is easy enough for potential tenants searching online on the largest search engine. By managing and targeting specific areas, you can be sure only those nearby will see advertisements specifically to what they are looking for, which means more leads.
Starting a blog
Great blog content isn't straightforward, but with some planning and attention to writing relevant content, you can attract more qualified tenants.
Don't you have time for this work on your own? You can hire professional writers who will write compelling stories that speak directly to potential renters' needs to help them find exactly what they're looking for at your apartment complex.
Several things go into making excellent blog content, including a call to action on your posts. But, if you keep a few key considerations in mind, you can produce content that will engage your audience and keep them coming back for more. Eventually, they will convert into renters and become tenants.
Optimizing your apartment website and service pages
Customizing your website to represent the apartments uniquely is an easy and effective way of making them stand out. With so many apartment websites looking alike, customization can be what makes or breaks you from being just another standard location holder on Google Maps.
Google my business
Google My Business is a great way to increase your website traffic and make the first impression on potential customers. You can use it like social media by posting regular updates that give an insight into what life's like in YOUR community, not just through content but also images or videos.
This will help people discover where they live, which could mean new tenants for their property (or apartments).
Local SEO listings
Apartments marketing can be tedious, but there's still time to set yourself apart. Local listing is a traditional marketing approach yet remains as effective as any other means or marketing channel.
It gives you the correct exposure and provides awareness to all potential buyers and renters searching in your local area.
If you have a property in the local area, it's crucial to ensure that your listings are up-to-date and accurate.
You can use Yelp or Bing, and Apple Maps for this purpose. By using more than one of these services, we're ensuring our site gets found by people who may not know about us yet but want something nearby when searching online.
This means they'll come across our listing before moving to other properties near theirs (possibly even farther away). The world is your oyster in marketing, and it's essential to be as visible as possible, so make sure you're using all the tools at your disposal.
Leverage the power of social media marketing
Don't get discouraged. Social media is a great way for prospects to look into your property, and it has the power to increase leads. You can create engaging posts so you will have more followers on social network sites like Facebook or Twitter, making them potential renters who might choose you over competitors in their search process.
Facebook reviews
You may have already known that your property can get reviews on Facebook, but did you realize how powerful they are?
Reviews from other residents give potential homeowners an inside look into the life of a community and help shape opinions before visiting or buying. It's not too late to respond to poorly rated places by directing prospects toward leaving online feedback for their new home.
Social media contests
Why not start a social media contest or giveaway that involves your post being shared? The winner gets some prizes, and you can get more traffic.
Along with hosting an apartment marketer competition on Instagram, it is also essential to engage residents by asking them for their input.
By inviting friends and family members in the community, you can get feedback about how they would like new apartments decorated or what kind of prizes would make this event more enjoyable, all while rewarding participants who come up with creative apartment marketing ideas that will appeal to different age groups.
Use Pinterest
Pinterest is becoming more and more popular with the help of over 77 million people. 45% use it to search for home inspiration, so if you want your brand(s) on this platform, make sure they are visual.
Post-high-quality photos that will awe viewers or interesting industry trends followed by business news days; keep things fresh year-round through consistent posting strategy implementation.
Facebook events
With Facebook Events, you can invite your followers in person and virtually to events. This is the perfect idea for open houses as well. Want something more interesting? Turn it into a competition by rewarding the first ten people who RSVP with a gift card or discount on their application fee; think how many sales that will generate.
Twitter polls
The best way to engage your followers, audience and potential customers can be done through polls, surveys and questionnaires. The more engaging the question and answers that you give out in response, even if they're just one-word responses like "yes" or "no," will make it easier for people who follow along with what's going on here at ( apartment marketing idea).
Use surveys to ask your followers something interesting, as everyone loves answering surveys. This helps boost engagement and supports the overall marketing strategy since each answer can be used as market research, giving you an accurate representation of preferences without having to pay anything extra.
Upload YouTube videos
One way you can do this is by making your own DIY apartment repair tips video series that cover common issues renters face daily and offer helpful solutions without taking too long. These short videos will help put some extra cash in your pocket while helping others.
You can also upload videos of virtual tours of the apartment, the building, and surrounding areas where potential renters can get a real glimpse of what they might be getting themselves into.
Facebook Marketplace
Facebook Marketplace is an easy-to-use marketplace that lets you post your best photo, unit price, and leasing terms. The benefit of using this platform over other sites like craigslist or RentSeekers is hyper-local results, meaning people searching will find potential matches very close to theirs.
You can also respond directly through Facebook messenger if someone inquires about one particular property in more detail, making it possible for us real estate professionals finally have access t a new lead source not previously available.
Conclusion
It can be tough to know where to start when it comes to apartment marketing, but luckily, we've got you covered. Check out our blog for more info on the best tools and strategies for attracting renters, and feel free to get in touch if you need any help putting them into action. Thanks for reading.
Discover the Best Creative Marketing Ideas for 200 Small Businesses.